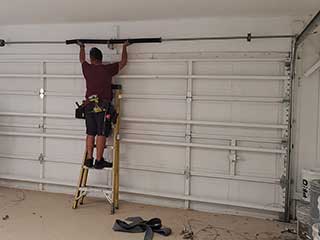 The shape of garage door springs resembles regular everyday springs for other applications but their power exceeds anyone's imagination. It is due to their great power that the door can be lifted and can also remain in its opening position. As ordinary springs, garage springs also have coils. Since they are bigger in size and their wires are treated to withstand extraordinary forces, they are very powerful. Their power hides among their coils and is released during the movement. When it comes to torsion springs, the movement of the spring on the one end will create torque. In the case of extension springs for garage doors, their coils keep their tension as they are stretched during the closing position of the door and manage to open it by releasing their tension as the coils are compressed.
Spring Problems? Trust Our Experts
The capacities of garage door springs are extraordinary. It is thanks to their tension that the overhead door actually opens. Although all components do their job aiming at the opening of the door, the panel opens thanks to springs. Spring tension can be threating if the extension and torsion spring garage door system is not properly installed and repaired. Due to their power, springs might snap and injure someone. Garage Door Repair St. Petersburg tries to prevent accidents by offering services fast. We excel in torsion services and extension springs repair and try to be as fast as possible when there is a serious problem or there is a chance that the spring will snap.
Emergency Spring Replacement Services
We dispatch one of our emergency technicians for emergency broken spring repair, too. Garage Door Repair St. Petersburg is always here to take care of problems but also prevent them by adjusting and replacing springs in the right time. Our excellent services will ensure that the door will never remain shut due to spring issues and these components will never snap since they will be replaced before they are damaged. We are experts in spring garage door repair and make sure our customers receive the right service, answers to their questions and immediate help.
We are here for spring repairs. Give us a call now!
But wait, there's more! We also offer:

Broken Cable Replacement

Torsion Spring Adjustment

Part Replacement & Repair

Belt Drive Garage Door Openers