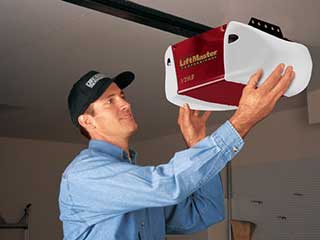 There is an absolute smorgasbord of choices abound when it comes to selecting the brand you want for your garage door opener. Each has its own unique set of pros and cons, and because of this, it can be relatively difficult making a choice of which one to opt for with confidence. So to help you find the brand that is right for you, here is a quick review of three of the top names in the garage door opener industry.
Liftmaster

Liftmaster openers have been cemented in the industry for ages, and with good reason. They are sleek, effective and pride themselves on constant innovation. These devices will harden your home's security and peace of mind with their sturdy designs, and come in a variety of ranges to suit the needs of any garage. If seamless action, beautiful design and unrelenting security are what you are looking for, then Liftmaster will most certainly provide. These openers are also priced competitively since they are geared to a residential market, which means you can enjoy all of their benefits without having to bankrupt yourself.

Chamberlain

This company doesn't limit themselves to their well-designed and efficient openers, they also offer a wide range of products on accessories and remotes. Chamberlain garage door systems can often take advantage of connectivity with your smartphone, which means you can finally do away with those old remote controls which keep on getting lost or running out of battery. Taking advantage of these features offers exceptional levels of security since it gives you better control of who is allowed in, whether you are home or not. Chamberlain specializes in belt and chain drive motors, which offer sturdy operation that won't suffer any untimely breakdowns.

Genie

One of Genie's strongest points is that they cater adequately well for both the residential and the industrial markets. But you might be wondering why this is a good thing for home owners as opposed to business owners. Genie openers are exceptionally sturdy and secure, regardless of how much weight they are expected to lift, and under any conditions. This is because they have been able to incorporate the strengths that Genie has developed for the industrial market into their residential designs. So when you opt for one of these systems, you are doing so because of the promise of enhanced safety.
So if you are on the lookout for a new system, keep these fantastic brands in mind, they will almost certainly have what you are looking for and they won't break the bank. For more information, why not speak to one of our technicians at Garage Door Repair St Petersburg for more advice on some of the best brands in the industry.