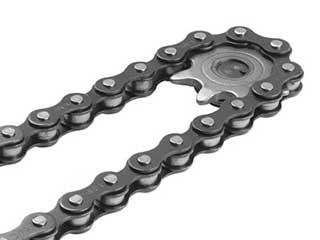 Chain drive openers have a chain like the one in bicycles and a sprocket that turns the chain forward or backward. The chain is attached to the garage door through a metal bar called a J-arm. Mechanical power is carried through the chain drive, and when the mechanism is turned on, the sprocket will turn, and its teeth will connect to the holes of the chain, and each movement of the sprocket will result in the chain moving forward or backward, wherever the direction of the gear is.
Heavier Garage Doors Require Metal Opener
Since, this type of garage door opener is made of metal (both chain and gear) the friction that it creates in each movement generates noise, which can both be a pro and a con, depending on your situation. The noise the mechanism generates can be a disadvantage if the garage is directly below a functioning room in the house, such as a living room or bedroom. However, for those who want to be made aware if someone is opening the garage door from outside, this can be an advantage.
Modern Chain Drive Openers Are More Quieter
A chain drive opener is one of the oldest types of garage door openers and many people still use it to this day. With modern technology, noise that is produced by the mechanism has been significantly reduced, but not totally eliminated because of its main components, which is metal. Chain drive mechanism is not only used in garage doors, but in other vehicles as well, such as bicycles and motorcycles. They operate on the same principle.